FASHION & TEXTILE DESIGNER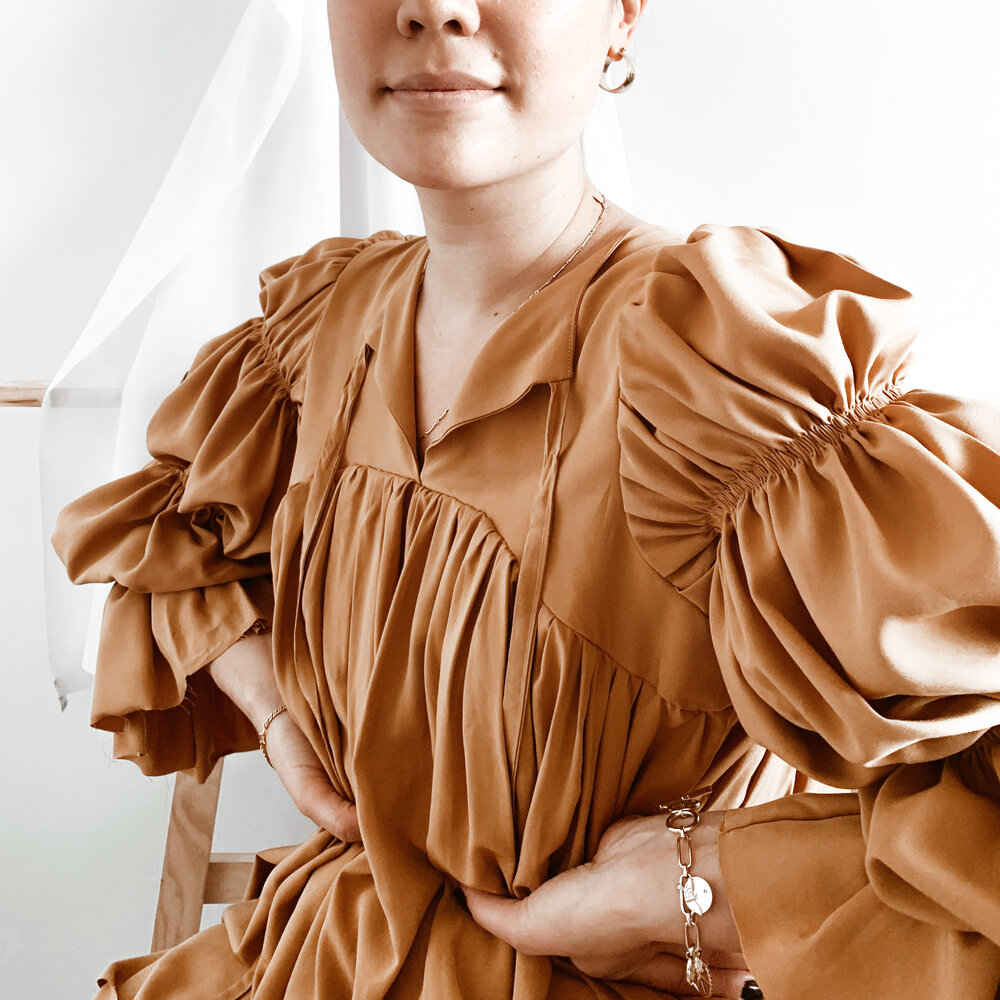 I recently discovered Veronica on Instagram, and instantly fell in love with her designs—anything with a beautiful statement sleeve, or textured fabric is my dream. I reached out to her within a week of following her wanting to know more about her and her work. She is the one (and only) woman powerhouse behind the label Veronica Tucker, and on the day of our interview, the label was exactly one year old. I am someone who works in retail and loves fashion, but I also can see the negative impact mindless spending and consumerism has on our world.

Veronica in this interview spoke about how her label, and any label for that matter, should incorporate 'considerate design' into their collections, whether it be choosing and sourcing more eco-friendly fabrics, or opting away from fast fashion ideologies. She notes that educating your customer on the durability and wearability of an item ensures that they have a longer life cycle, and as a result, consumers are more inclined to purchase and support artisan garments. If you are someone who is studying fashion or textiles, or maybe just loves fashion like me, this interview is worth the read! Veronica is one talented lady and I am so excited to see what this year has in store for her.
Your passion for creating came from when you were learning to sew, and making your own garments at home. Remembering back to that time, were you adamant that you wanted to be a designer or did you just want to see where your passion took you so to speak?
My decision to go into the fashion industry happened when I was about 15. My mum was always sewing things for us, and my grandmother as well, so I naturally always felt that creating my own garments was a way of saving money while getting exactly what I wanted. I originally wanted to be a fashion illustrator, but as I went through my final years of high school and began my tertiary studies I quickly realised that I really enjoyed sewing and creating things from nothing. From there, I decided I wanted to become a designer—although now that I think about it, I was always given the creative freedom to be a designer from a very young age.

After graduating, you went on to intern at WGSN and worked extensively for Myer over 5 years. You first started at Myer as a buyers assistant and product development assistant, and from there, you worked your way up to become a design coordinator and designer. What was your experience like over those years? Were there any challenges or moments of self doubt?
After studying I actually worked in retail for a year, and that's where I met a customer one day who worked for WGSN. That internship changed everything. The connections that I made helped me get a job at Myer as well. I learned so much working at Myer! And I met so many incredible people. Of course there were tough times, but I found that those moments pushed me as a designer to think outside the box to come up with new and interesting concepts. I also had the opportunities to work as a Textile Designer/Graphic Designer and learned so many skills from that role that help me now.

During that time, did you always have plans to start your label? I imagine that working in the industry for a large company like Myer, you are exposed to a lot of the smaller details in terms of running a business, dealing with multiple stakeholders at once etc. From a business perspective, do you think your time at Myer helped to build the foundations of your label?
Absolutely, although it's a much smaller scale. The lessons I learned there were invaluable. Especially what goes into creating a range, knowing your customer and what they want, and what they will want in the future.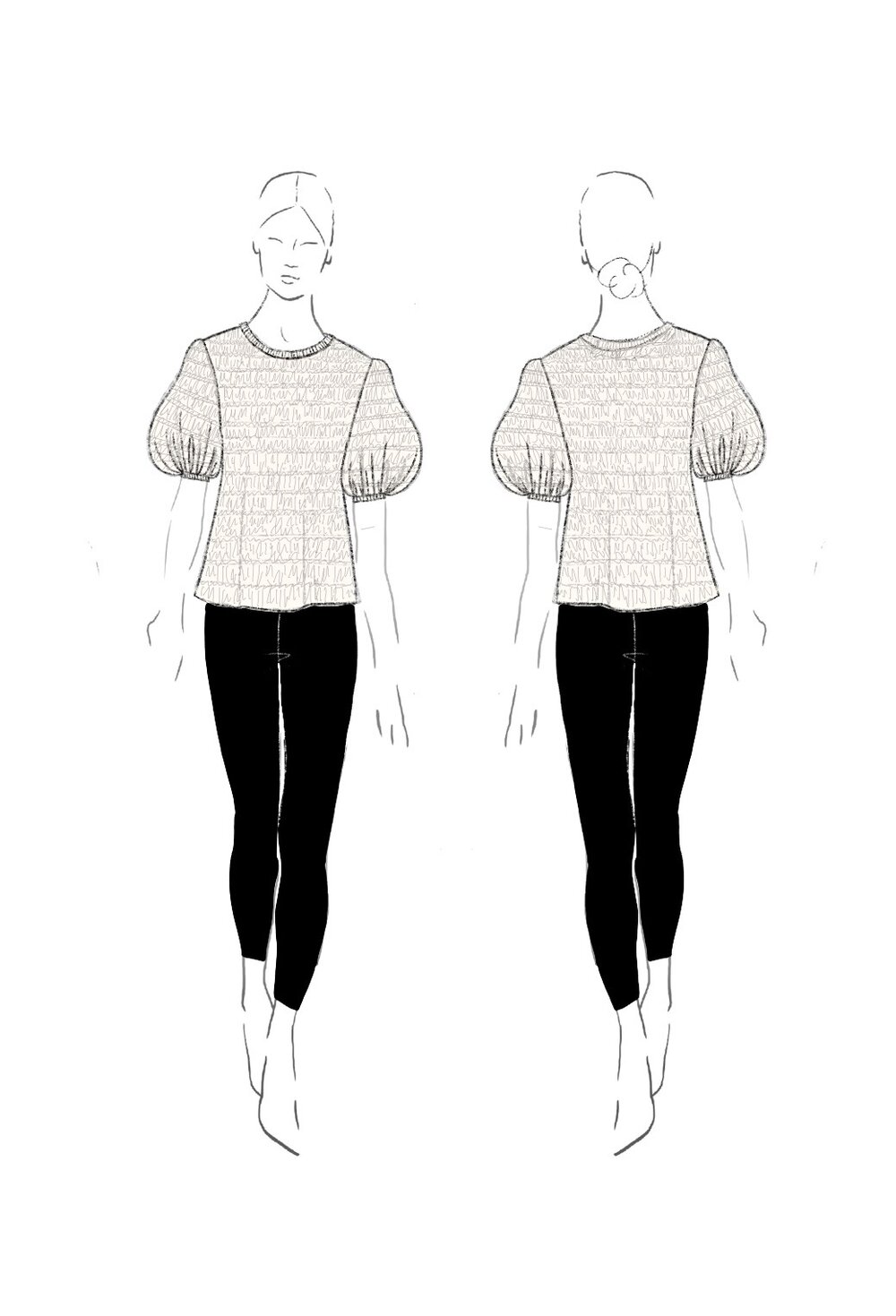 For your business, you are apart of the whole process. From designing and making the garments, sourcing fabrics/trims and constructing patterns, to the marketing and graphic side of things. Why is this important to you? Is it ever overwhelming?
To get a consistent and clear voice, I think it's so important to have influence in every aspect of my business. Hopefully one day I'll be able to hire a team to help me with those things, because it definitely does get overwhelming some days. But I love creating prints, web design, sourcing everything. It would be great if I could somehow clone myself and get it all done.

Although, on the other hand, I need to take it slow. I'm so used to working on a fast business model, getting everything done quickly, but I'm learning that 'slow fashion' is just that, a lot slower, and that's okay because it's about making beautiful things that are crafted and considered.

That's a very interesting point! Fast fashion or over consumerism is something that a lot of customers are starting to want to distance themselves from. Although convenient and sometimes more affordable, fast fashion is slowly starting to be overlooked as customers want to invest in staple pieces as they become more conscious of their footprint. In saying that, when you are designing a collection, how do you incorporate 'considerate design'?
Definitely wearability and comfort. The design has to be able to be worn with a lot of things, and even different ways. For example, my Audrey blouse has a wrap waist that can be wrapped once, twice, to the front or the back depending on the wearers mood. I think once the customer can see how wearable it is, investing the money seems much more doable. This means that they're more comfortable outfitting the garment in different ways, and it has a longer life. I also utilise natural fibres like linen, cotton and hemp so that when the garment does come to the end of it's lifecycle, it is biodegradable.

Finding your style or voice in any creative industry can be hard because there are so many talented individuals. What do you tend to gravitate towards when looking for inspiration for a collection?
My main source of inspiration is Renaissance art, ancient Egypt, the Belle Epoque era in Paris and the Edwardian era in England. I visit a lot of galleries, follow a lot of art instagrams, watch a lot of black and white movies and of course Tumblr and Pinterest for unique mood imagery.

At the time of writing, it is the first anniversary of your label. Looking back, what are some of the best moments so far? And looking forward, what are your plans for the label for the next year?
Finally making the choice to leave my full-time, secure job was the most terrifying/gratifying decision I've ever made. Also, creating custom dresses for some of my creatives idols has been a huge highlight so far. I'm currently in the process of archiving my current designs to make way for a new, fresh collection. Sourcing new and more eco-friendly fabrics as well. I'm also hoping to create more long-form video content to help people who are wanting to make their own clothes, or who have an affinity for fashion but don't know how to get their ideas from their head to an end garment. So that's exciting!

If you could give one piece of advice to a fashion/textiles student, or industry professional wanting to create a label, what would it be?
I think in the current climate of the world and the fashion industry, you should ask yourself if you're adding in a positive way. I don't think we need any more fast fashion brands with cheap fabrics and even cheaper labour, with a race to the bottom line. We need more artisans, more creatives investing in eco-friendly fabrics, educating their customers to help them understand the power they have in their purchase. Also, I would say take every opportunity to learn. Even if you have to do it for free and work nights and weekends to make money, that's what I did, and the lessons I learned and connections I made have been priceless.

I believe that defining success is quite personal as every individual will have a different perception of what 'success' means. What is success or being successful for you?
Balance. I'm a Libra and I need to have balance in my life. I'm learning to balance work, home, mental health, family, friends, everything. When all of those aspects of my life are happy and healthy, that is success to me.